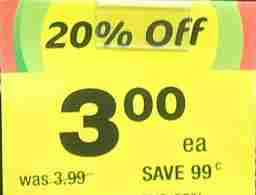 The above is a picture of the chocolate display at Woolworths, an Australian supermarket that was formerly known as Safeway – it had the same logo as the US Safeway so there's probably a connection. This is actually a 24.81% discount. It's possible that some people might consider it a legal issue to advertise something as a 25% discount when it's 1 cent short of that (even though we haven't had a coin smaller than 5 cents in Australia since 1991). But then if they wanted to advertise a discount percentage that's a multiple of 5% they could have made the discount price $2.99, presumably whatever factors made them make the original price $3.99 instead of $4.00 would also apply when choosing a discount price.
So the question is, do Woolworths have a strict policy of rounding down discount rates to the nearest 5% or do they just employ people who failed maths in high school?
Sometimes when discussing education people ask rhetorical questions such as "when would someone use calculus in real life", I think that the best answer is "people who have studied calculus probably won't write such stupid signs". Sure the claimed discount is technically correct as they don't say "no more than 20% off" and not misleading in a legal sense (it's OK to claim less than you provide), but it's annoyingly wrong. Well educated people don't do that sort of thing.
As an aside, the chocolate in question is Green and Black, that's a premium chocolate line that is Fair Trade, Organic, and very tasty. If you are in Australia then I recommend buying some because $3.00 is a good price.