This morning I attended the Climate Action Now rally to support a pollution tax [1]. The event was well attended, my personal estimate of the number of people there was there there was definitely more than 3,000 people, and maybe as many as 8,000 or more.
I spoke to an employee of the APS who was on guard duty, he described the event as "big" and said that they don't usually have events that are so well attended. He gave a personal estimate of 5,000 people. While he wasn't speaking on behalf of the APS he was presumably more skillful at making such estimations than most people. I expect that he also gave a conservative estimate, so it could have been a lot more than that.
There were some people using comedy to make political points. Below is a picture of the carbon monster, what you can't see is the man who was handing out coal BBQ fuel for people to feed the monster, children appeared to enjoy that! Also there were three people dressed as Gollum representing the Liberal party (the Australian conservative party), I was unable to get all three in one picture.
Some vegans had a banner supporting the VeganEasy.org site [2]. Being vegetarian can make a significant impact on human environmental impact including on the amount of electricity used (from coal or other sources).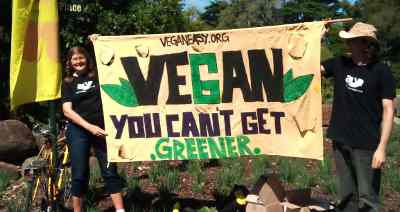 Here are pictures taken looking East over the main part of the rally, looking North towards the building at 3 Treasury place from the other side of the road, looking South over the lawns where people who didn't like being crowded gathered, and looking West over part of the main crowd. The picture looking South shows another view of the Carbon Monster and his accomplice with a sign "haven't you had enough dear?".
When I first arrived there were two main sections to the rally. They weren't discrete (there was no empty space between them) but they acted separately because there was no PA system that could make enough noise to be heard in both sections. At one stage the West section was chanting while there were speeches in the East section. Below is a picture looking out over the West section as people had just turned to go home. This area was entirely packed when I first arrived.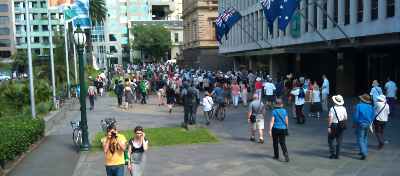 The rally was really a family event. There were some grey-haired people wearing t-shirts explaining that they wanted to create a better world for their grand-children and there were also some young children. At the end of the event some children used cardboard signs as toboggans to slide down a steep grassy bank near the main rally area – recycling!!! I deliberately chose my photos to try and avoid including children, but even so you can see a few in the background of some of them.