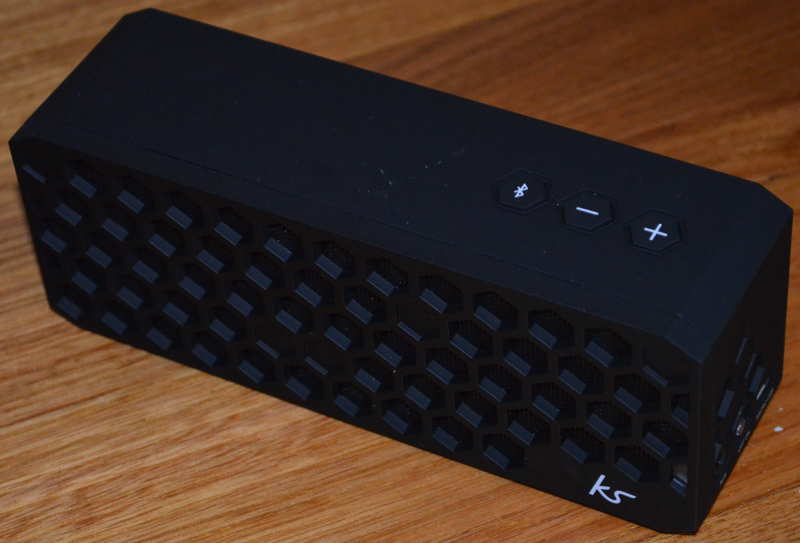 I've just been given a set of Hive Bluetooth speakers by MobileZap (see this link for all their Bluetooth speakers) [1].
The speakers charge by a micro-USB cable so I started charging them in my car immediately after collecting them. To connect them to a phone or other Bluetooth device you just press the Bluetooth button on top and get the phone to be visible and scanning for devices, they identify themselves as "Hive", after that they just work. My first test of using them was playing Ingress and the quality of the sound was impressive, I had thought that the Ingress recommendation to use headphones was due to the risk of annoying other people or alerting other players, but the quality of the sound was impressive and the internal speakers of a phone can't do it justice.
After getting home I did some tests listening to music. For watching music videos it didn't work so well as the sound was too far removed from the video, but the audio quality was very good. I listened to "Vow" by "Garbage" (a good benchmark for stereo sound) and even though the Hive speakers are only 16.5cm wide I could still notice the stereo effect when they were about 1.5m away from me. The audio quality didn't compare well with my Bose QC-15 headphones, but for affordable and portable speakers it was quite good and an obvious improvement over the speakers that are built in to any phone I've used.
According to the Bluetooth Wikipedia page the range of a class 2 device is 10m and the range of a class 3 device is 1m. When my Samsung Galaxy Note 2 is talking to it I get a reliable range of about 5 meters and a mostly working range of 6 or 7 meters (sound randomly drops out and gets choppy). It could be that other phones would support a longer range due to having a higher transmission power (either class 1 or being closer to the limits of class 2) and a more sensitive receiver. But it doesn't seem likely that a 5m range is going to be a problem.
Volume and Quality
The speakers are rated at 5 Watt, when running at maximum volume (both through the phone volume setting and the volume control on the speakers) the sound is reasonably distortion free, as good as can be expected from playing an MP3 that's not compressed with the highest quality. Sound Meter [2] reports the sound volume as almost 85dB on a Galaxy S3 and as almost 100dB on a Galaxy Note 2, that would be somewhere between the volume of a "busy street" or "alarm clock" and the volume of a "subway train" or "blow dryer" which seems like a reasonable description, I find it very unpleasant to be within a meter of the speakers at maximum volume. With the typical amount of background noise in my house I can play music on the Hive speakers at one end of my house and hear it clearly at the other end.
These speakers are more than capable of supplying the music for any party I'd want to host or attend. I'm not really into wild parties, but I think that anyone who has a one room party would be more than satisfied with the Hive speakers. Obviously the sound quality of portable speakers in a box that's 16.5cm wide and 6cm high isn't going to equal that of a full size set of speakers, but I think that hardly anyone who attends a party would expect better sound quality than the Hive speakers can provide. The aim of such speakers is to be portable, not really expensive, and to provide good sound quality within those constraints. I think that they meet such aims well.
Over the years there have been many occasions when I have used a Thinkpad to provide the music for a party and found it to be quite loud enough. My current Thinkpad is a T420 which can produce 75dB according to my Galaxy S3 or 85dB according to my Galaxy Note 2. So it seems that I only really need about 10dB less than the maximum volume of the Hive speakers.
Appearance
The designers obviously made an effort on the appearance of the device. They have gone with the Hive concept and used hexagons everywhere. It really looks nice.
Unfortunately when I took the photo there was some dust on it which didn't look bad to the eye but caught the camera flash. But with a matte black device there's always the problem of light colored dust. Even with a bit of dust it still looks great as a set of speakers, the dust just detracts from the appearance in photos.
Line In
One of the features I looked for was an audio line input so I could connect it directly to a non-Bluetooth device. I'm assuming that this feature works as it's something that's difficult to stuff up when designing such a product, but I haven't got around to testing it. Once I started using the device I just found that I didn't have a real need for that feature.
One thing that it might be useful for is PC desktop speakers that are powered by a USB port on the monitor. Currently I have a bearable (but not great) set of speakers for each PC and I don't need to change anything. But having the option of another set of speakers is very handy in case I suddenly need to make hardware changes.
Other People's Reviews
When I review a product I generally try and get opinions from random other people if possible. My mother and my mother-in-law were both impressed by the Hive speakers and expressed interest in owning a set. My mother-in-law was particularly interested as she uses her phone to listen to radio stations from outside Australia (I'm going to get her onto Aldi for cheap 3G data ASAP so she can listen to Internet radio when travelling).
Generally the impression that other people have of this device seems to be very positive. It seems that Bluetooth speakers aren't just a Geek toy.
Conclusion
While I'm very impressed by this product, at this stage I'm not sure whether I would pay for this one or something cheaper if I was paying for it. MobileZap offers a range of other products that look appealing at lower price points. It really depends on how much I use it.
I've just got a Makerbot Replicator 3D printer working and I've found the Hive speakers very useful for the purpose of drowning out it's noise. If I keep doing that sort of thing then I'll get enough use out of the speakers to justify the price.