I have just bought a wireless phone charging system based on the Qi Inductive Power Standard. I bought a charging device which connects to a standard micro-USB cable and receivers for the Samsung Galaxy Note 2 and Samsung Galaxy S3 phones I own. Both those phones have contacts in the back of their case that are designed for wireless charging so you can install a charging device inside them. The charging devices make the case fit a little tight, and the charging device is stuck to the phone battery with contact adhesive, this makes it impractical to change the battery on a phone with such a device and makes it a little more difficult to swap out a battery case. One nice feature of the Nexus 4 is that it has Qi charging built in, that saved me $19 and was also more convenient.
I believe that the main advantage of a wireless charger is to avoid the risk of damage to the phone if it's dropped while connected to a USB charger. This allows the phone to be charged in situations where you might need to quickly or regularly unplug it to go somewhere. One example of how I might use it is when working at an office so I could charge my phone while at my desk and then quickly take it with me if I had to go to a meeting (sadly I have worked in many offices where they have so many meetings). Another example is for sysadmin work where I have to frequently visit devices to fix them.
The wireless charging mat that I bought from Kogan connects to a standard micro-USB plug, the good thing about this is that it's easy to find cables and it can take power from any PC. The bad thing about this is that the resistance of the USB cable is a factor that limits the power that a phone can receive, when using wireless charging you have the limit of the cable resistance as well as some power loss from the wireless transmission. After any extended period of charging the charging mat feels warm to the touch and the phone that's been resting on it feels warmer than usual. The warmth is an indication of energy loss which means longer charging times, a longer charging time isn't necessarily a problem as the convenience of wireless charging can allow longer charging times, but if you want to charge your phone in a hurry before you go somewhere then wireless isn't a good choice.
In the past I've discovered that the battery in a Samsung Galaxy S3 can't be charged if the phone is at 46C [1]. 46C might seem extremely hot to people in some parts of the world (EG northern Europe and Canada) but the temperature in even southern parts of mainland Australia can get that hot and it can be hotter in central and northern parts, so phone temperature can be a real issue. Currently my house is at 21C according to a digital thermometer, the Galaxy S3 and the Note 2 are being charged from USB and report temperatures of 27C and 23C respectively. While the thermometer in my house and those in the phones probably aren't really accurate it seems reasonable to assume that the battery of a relatively idle smart-phone that's being charged will be a few degrees warmer than the ambient temperature. The Qi charger makes things a lot worse as it even feels warm to the touch. So maybe a phone on a Qi charger would be 8 degrees warmer than the ambient temperature or more. That implies that in Australian summer weather a Qi charger won't be useful outside or in any building that lacks air-conditioning. So I think we can give up on the idea of using Qi devices to charge phones at a BBQ.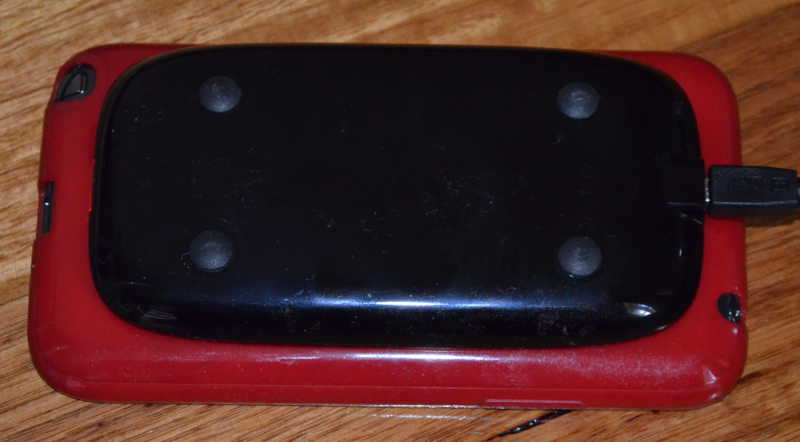 The final problem I have is that the Qi device is quite small, I took the above picture with my phone face-down because no part of the charger is visible in normal use. With that size I can't just dump a phone like a Note 2 on top of the charging mat and expect it to work. I have to carefully place it so that it balances and so that the wireless receptor inside the phone matches the transmitter in the mat, if the phone isn't placed correctly then the Qi mat won't detect it and won't supply full power to the transmitter.
Conclusion
I'm fairly disappointed in this device. The waste heat makes it unsuitable for Australian summer conditions and slows charging. The difficulty of correctly placing the phone reduces the convenience which is one of the major features.
The price was $19 for each charging card for the Note 2 and the S3 and $29 for the charging mat to give a total of $67. I think it's worth the money for me to cover the risk of one of my phones having it's USB port damaged. Using a Qi charger on occasion will decrease the probability of such damage and allow the phone to be used after receiving certain types of damage.
The prices of those phones nowadays are $389 for a Galaxy S3 (Kogan price), $250 for a Nexus 4 (when it was on sale in the Google store), and probably about $500 for a Galaxy Note 2 (last time Kogan offered them). So by paying $67 for Qi charging I believe that I'm getting some degree of damage insurance for just over $1100 worth of phones. It seems likely that the Nexus 5 will ship with Qi charging support and that the Galaxy Note 3 will also support an optional Qi charging card (which will probably also be $19 or some similar price) so the charging mat should be useful for a long time.
While I'm disappointed I don't regret buying the device. But I would be hesitant to recommend it to other people and definitely wouldn't recommend it to someone who doesn't have a significant interest and investment in smart phones.