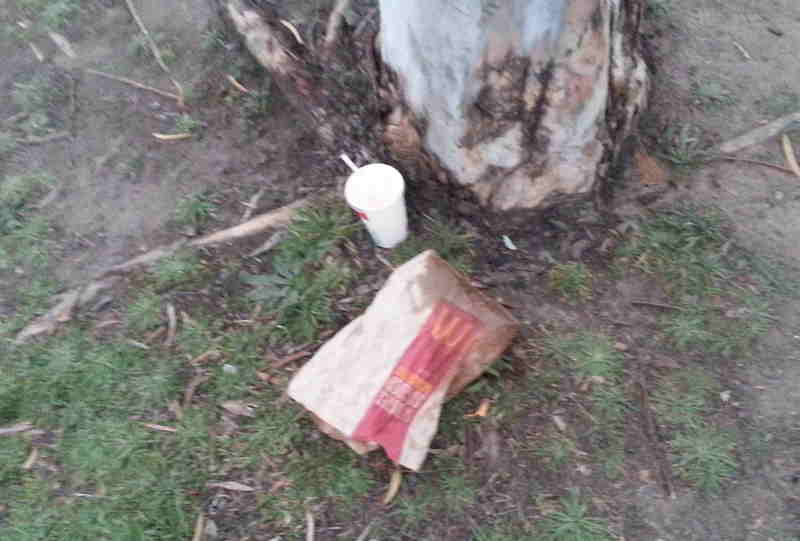 Seven hours ago I was handing out how to vote cards for the Greens at the 2013 Australian Federal election. I was hoping that either we would have a Labor/Greens coalition or an outright majority for Labor. Unfortunately we got a Liberal majority in the lower house and it looks like some extreme right wing groups may get into the senate (replacements for "Family First" – the anti-Gay party).
For some reason the polling station where I was working only had volunteers from the three major parties (Greens, Labor, and Liberal) while other polling stations in the same electorate had volunteers from smaller parties such as the Sex Party and the Socialist Alliance.
The volunteers from the Liberal party ate McDonalds outside the polling station and afterwards McDonalds rubbish was left on the ground, the above picture isn't particularly clear because I took it after 6PM when the polls closed. The Liberals didn't care enough to put their rubbish in a bin, it's an externality for them, if they get enough seats in the senate they will surely take the same approach to governing Australia. The Labor people didn't take the effort to clean up the Liberal mess even though it wasn't particularly difficult to do so, I think that's the type of attitude that led to this election defeat. In the case of the McDonalds rubbish in question I put it in the bin so that when the primary school kids return on Monday their school won't be too messy after the election. But in the case of the mess that is being made in Australian politics it will take many more Greens votes to allow us to clean it up.