Good Things about LinkWithin
For the last 10 weeks I've been using the LinkWithin.com service to show links to other blog posts at the end of each post (the links are only shown to visitors of my blog not in the RSS feed, so people who read my posts through RSS syndication will miss this). The service shows excerpts of pictures from my blog at the bottom of each post to entice readers into reading other posts.
When you click on a LinkWithin icon on my blog you visit a LinkWithin page that redirects you back to my page, so people who use that show up as new visitors being referred by LinkWithin. Currently this month LinkWithin is the fourth highest referrer to my blog, below Google, Reddit, and WebWombat.com.au – so it is clearly doing some good in enticing people to read other posts that they might not otherwise read!
Bad Things about LinkWithin
The first problem with LinkWithin is that the WordPress plugin was written by people who don't know much about WordPress. Unlike every other plugin I use it doesn't support configuration options for the user in the database but instead has it hard coded in the PHP code! When you download a plugin from their web site it creates a custom zip that includes the PHP code automatically generated just for you! I have some friends using the same web server as me for running blogs, and I have to tell them "you can install any plugin apart from LinkWithin – it works for no-one but me".
The next problem is that LinkWithin advertises that it will display related posts, it seems to be doing a poor job of that on my blog although admittedly only a minority of my blog posts have pictures so this limits what it has to work with. This has however inspired me to use more pictures in my posts.
Another problem is that it produces web pages that are not valid XHTML, the following patch fixes this.
--- /tmp/linkwithin.php 2010-02-22 02:09:47.000000000 +0000
+++ ./wp-content/plugins/linkwithin/linkwithin.php 2010-02-22 02:17:29.000000000 +0000
@@ -15,7 +15,7 @@
global $post, $wp_query, $linkwithin_code_start, $linkwithin_code_end;
$permalink = get_permalink($post->ID);
– $content .= '<div class="linkwithin_hook" id="'.$permalink.'"></div>';
+ $content .= '<div class="linkwithin_hook" id="'.str_replace('/','-',$permalink).'"></div>';
$content = linkwithin_add_code($content);
}
return $content;
@@ -26,13 +26,13 @@
global $post, $wp_query, $linkwithin_code_start, $linkwithin_code_end;
if ($wp_query->current_post + 1 == $wp_query->post_count) {
– $embed_code = '<script>
+ $embed_code = '<script type="text/javascript">
<!-- //LinkWithinCodeStart
var linkwithin_site_id = 151382;
var linkwithin_div_class = "linkwithin_hook";
//LinkWithinCodeEnd -->
</script>
-<script src="http://www.linkwithin.com/widget.js"></script>
+<script src="http://www.linkwithin.com/widget.js" type="text/javascript"></script>
<a href="http://www.linkwithin.com/"><img src="http://www.linkwithin.com/pixel.png" alt="Related Posts with Thumbnails" style="border: 0" /></a>';
$content .= $embed_code;
}
Finally LinkWithin shows up badly on the FireBug analysis (see my previous post about using Firebug to speed up my blog) [1] – see the below picture for details. As an aside, given that Google recommend Firebug it is rather ironic that Google Adsense related URLs cover the majority of the Firebug issues that are not caused by LinkWithin.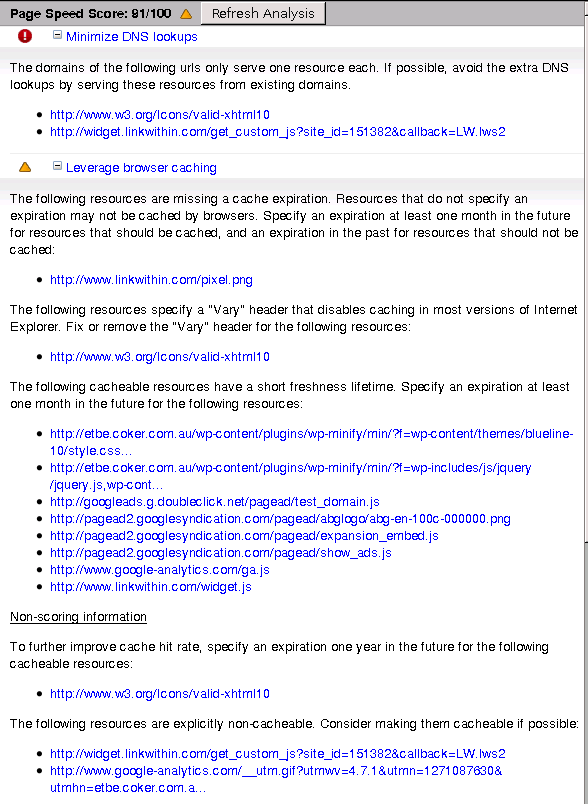 What Next?
I've sent email to the LinkWithin people about all these issues other than the FireBug problem reports, given that they haven't responded to some suggestions for over 10 weeks it seems hardly worth my effort in informing them of other issues.
I'm thinking of trying OutBrain.com again. 18 monthe ago I tried OutBrain but never got it working due to technical issues and then forgot about it. It has some similar features and may work better – at least it has tech support people who respond to queries!